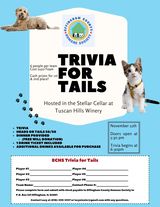 Trivia for Tails
We are excited for another year of Trivia for Tails!
Come join us in the Stellar Cellar at the gorgeous Tuscan Hills Winery in Effingham on Saturday, November 11th. Grab your friends, family, or coworkers and get together a team for a night of fun and to compete for cash prizes!
Doors open at 5:30 and dinner will be provided for a free will donation. Trivia will then begin at 6:30. We will have a fun night of raffles, prizes, and trivia! Don't miss this fun night to support a great cause.
Please contact Lacy at lacynicoler@gmail.com or 618-339-3337 to reserve your spot or with any questions!
6 people per team
Cost $150/Team
Cash prizes for 1st
& 2nd place!